Introducing new project-based testing for Microsoft Office Specialist Excel 2013.
Our cutting-edge Excel 2013 certification program gives testing candidates practical, performance-based scenarios to gauge their real-world capabilities with project and standards-based outcome testing.
Certified candidates will demonstrate the fundamentals of creating and managing worksheets and workbooks, creating cells and ranges, creating tables, applying formulas and functions and creating charts and objects.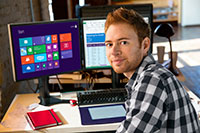 To make the 2013 exam more helpful, we've replaced individual tasks with comprehensive, project-based testing. This live-in-the-application environment confirms that certified individuals have demonstrated the ability to complete a realistic Microsoft Office Specialist Excel 2013 project.
Certiport makes Word certification as easy as 1-2-3 with a unique, three-step pathway:


1. LEARN
how to use Microsoft Office with content-rich textbooks, online Courseware, video resources and more. Contact your Certiport sales representative to request a customized learning solution based on your individual needs.


2. PRACTICE
using interactive exam preparation tools and practice exams. Your Certiport sales representative can evaluate your specific needs and provide tools and resources designed to help you and your students practice skills and gain confidence needed to pass MOS certification exams.


3. CERTIFY
and validate skills taking Certiport performance-based exams.

MOS Word 2013 Exam